N3.Healthcare
Healthcare information systems integration based on HL7 FHIR
We build infrastructure for safe health information
exchange across regional and institutional boundaries
N3.Healthcare connects information systems that serve over 25 million patients.
N3.Healthcare is an E-health integration platform that connects healthcare information systems through application programming interfaces (API) based on HL7 FHIR to exchange information about patients. We support CDA, HL7 v2&v3.
How can N3.Healthcare help?
Large hospitals all over the world are facing unprecedented IT challenges. It is not uncommon for a hospital to operate a couple of dozens of various systems. Choosing the right architecture to manage a proliferating IT ecosystem is a cornerstone to profitability and sustainable growth.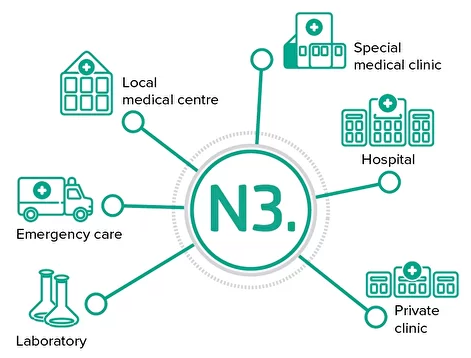 Expand your EHR
You can overcome the shortages of your current EHR by adding additional specialized services from other vendors. We connect health information systems via an HL7 FHIR interface so that any types of data can be accessed from EHR or HIS currently used in your hospital.
Save money on integration
When you implement N3.Healthcare integration platform you get a single integration point that provides API to other systems and unified information exchange rules for all. No more need for point-to-point integration.
Single point of authorization for medical staff
In some organizations doctors have to remember several dozens of logins and passwords to do their day-to-day work. With N3.Healthcare in place, you get a single authorization point, simple and secure access procedures.
Grow your partner network
You can grant access to your data to trusted external institutions such as partnering clinics. Authorization rules and data access policies powerd by XACML-based data security module.
Simplify access and protect data
N3.Data security module is a single and secure point of authorization for medical staff and other users. You can flexibly manage data access policies and grant access up to a specific item - a type of document or a specific health entry. Patients can access their data at the Patient's portal view medical records, lab results, scheduled appointments and more.
Harmonize terminology across systems
Data normalization across departments and automated mapping help overcome the problems associated with employing multiple, incompatible medical terminologies. Avoid incostincencies, eliminate excel spreadsheets and time-consuming meetings.
We follow international standards
We are part of the FHIR® community
We have established one of the key digital health conferences in Russia
We take part in international conferences across the globe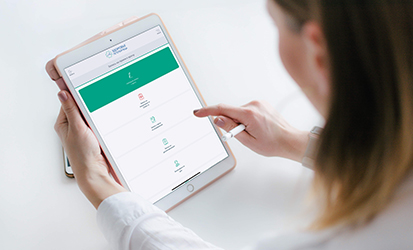 Electronic doctor appointment scheduling
А single point of access for
doctor appointment booking
referral visits
regular check-ups
telemedicine sessions.
Connects hospital information systems, call center software, mobile apps and online portals. How N3.Healthcare helps
Patients can book doctor appointments online, in a mobile app or via call-center, and cancel or re-schedule their appointment
No more queues or double bookings
Reduced no-shows
Increased patient satisfaction
Up to 75% of doctor appointments in St.Petersburg are now booked remotely.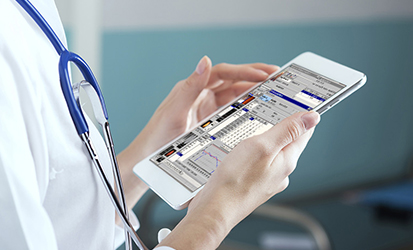 Consolidated EHR
Online access to medical history for patients and doctors.
Fights process inefficiencies such as restricted information exchange and patient data retention
Stores any type of information – exam protocols, medications, lab tests, diagnostic images
Uses advances algorythms to correctly link entries from multiple sources and create a patient-centric system
Access rights management system establishes access policies and rules
Results:
Empowers the patient to be a true owner of their data
Enables continuity of care across multiple healthcare settings, including emergency care and telehealth
Structures the data in a meaningful way that helps find relevant information easily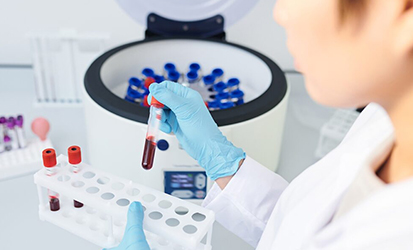 Laboratory information exchange
To exchange lab test orders and results, clinics and laboratories used multiple local point-to-point integrations. The challenge was to create a centralized service that would provide a paperless workflow between HIS and LIS. This would eliminate double data entry and excessive paperwork, improve data quality and reduce waiting time for laboratory reports.
Results in St.Petersburg, a city of 5M
Workload: 19M tests daily
Patient waiting time for test results: reduced to 1 day
Results availability: 32% of city population access test results online
Medical documents were stored on paper or in autonomous silos in hospital information systems.
Patient information could not be found easily – some patient entries contained misprints and mistakes and could not be correctly attributed to patients
Different types of information –medical history, medications, lab tests, radiology images, and other – were stored in different information systems and not liked to single patient profile
Patients had to store and carry paper versions of their files. There was little feedback from specialized facilities to primary care. Continuity of care was lacking.
Cost savings: 20% cost reduction
Leave your contacts to request a demo